Concerts Program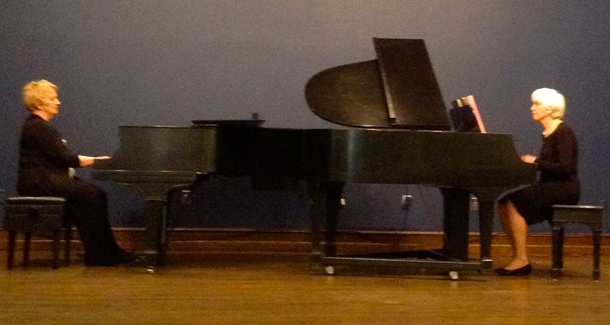 Action to Cure Kidney Cancer presents Brenda Casey and Pat Todd at two pianos, in a series of concert fundraisers for kidney cancer research funding. Meet the performers. Follow us on our blog. Watch the concerts videos.
L'embarquement pour Cythère (1951)
Francis Poulenc (1899-1963)
A tongue-in-cheek reference to the famous Watteau painting depicting revelers embarking for Cythera, the mythical island of pleasure. Poulenc wrote this "Valse-Musette" to evoke happy childhood memories of boat trips on the river Marne.
Four Piece Suite 1. Samba Triste
Richard Rodney Bennett (1936–2012)
Bennett wrote music for countless films and TV shows, among them Far from the Madding Crowd, Nicholas and Alexandra, Murder on the Orient Express, and Four Weddings and a Funeral. Samba Triste is dedicated to Andre Previn.
Caprice
Moritz Moszkowski (1854–1925)
Paderewski said "After Chopin, Moszkowski best understands how to write for the piano, and his writing embraces the whole gamut of piano technique."  Moszkowski was well known and highly regarded in the late nineteenth century. At the age of nineteen, he performed his Concerto for Two Pianos with Franz Liszt. At the end of his life, when he was ill and heavily in debt, his friends and admirers arranged a grand testimonial concert on his behalf at Carnegie Hall on December 21, 1924. The performance involved fifteen grand pianos on stage. Many of his small but brilliant piano pieces are still used today as encore at the end of classical concerts.
Variations on Yankee Doodle in the Manner of Bach, Beethoven, Chopin, and Debussy (1949)
Mario Braggiotti (1905–1996)
As a child in Milan, Braggiotti would return from an opera performance, sit at the piano, and recreate the arias he had just heard. Later, in Paris, he joined pianist Jacques Fray to become the two piano team of Fray and Braggiotti — known in the USA as  "The First Team, The Last Word." He arranged all the music they played.  In 1924 when Gershwin was in Paris working on An American in Paris, the two men introduced themselves and were immediately put to work trying out the famous taxi horns he was writing into that composition. The original version of An American in Paris was, in fact, scored for two pianos, and orchestrated later. In 1926 Gershwin helped launch the team's career by hiring them to play in his London production of Funny Face starring Fred and Adele Astaire. Braggiotti concertized widely in Europe as a solo performer, and Rhapsody in Blue became his signature piece.  "Mario plays my music the way it should be played," said Gershwin.
Scaramouche (Suite pour Deux Pianos)
II. Modéré III. Brazileira
Darius Milhaud (1892-1974)
At the outbreak of World War II, Milhaud emigrated to America with his family, where he taught composition at Mills College in California. One of his most famous students was Dave Brubeck, who described him as "an enormously gifted classical composer and teacher who loved jazz, and incorporated it into his work." Brubeck named his first son, Darius, after Milhaud. Another student influenced by Milhaud was Burt Bacharach.  Milhaud's advice to him: "Don't be afraid to write something people can remember and whistle."
Suite No. 2, Opus 17 II. Waltz (1901)
Sergei Rachmaninoff (1873-1943)
Composer, pianist, and conductor, Rachmaninoff was considered one of the finest musicians of his day, and as a composer, one of the last great representatives of Romanticism in Russian classical music. He left Russia in 1917 for Finland with his wife and two daughters on an open sled with only a few notebooks and sketches of his own compositions. Later, after arriving in America, he accepted a contract and a concert grand from Steinway and Sons for playing forty concerts in a four-month period. In 1920 he signed with the Victor Talking Machine Company.  Suite No. 2 was first performed by the composer and his cousin Alexader Siloti. But the most memorable performance took place at a private home in Los Angeles in the early 1940s just before he died. Rachmaninoff and Vladimir Horowitz sat down and played the entire suite at a party being given there. Unfortunately, it was not recorded.
The purpose of these performances is to advocate for kidney cancer research funding and to raise awareness of the importance of early detection. The concerts are dedicated to the memory of Kenneth Todd (1937-2004).