Dr. Janice Dutcher Moves Offices
August 19th, 2011 by Jay Bitkower, ACKC president and survivor
Dr. Janice Dutcher has moved her clinical practice and IL-2 treatment program from the Montefiore Medical Center in the Bronx to the St. Luke's Roosevelt Hospital Center in Manhattan where  Dr. Dutcher is the Director of the Immunotherapy Program.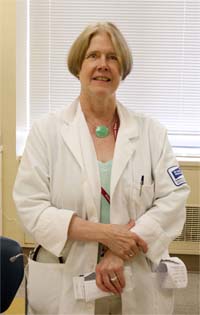 Dr. Dutcher is a board-certified medical oncologist who has dedicated her career to caring for people who are stricken by cancer. She treats patients for renal cell cancer, melanoma, breast cancer and hematologic malignancies She is recognized as one of the foremost expects in renal cell carcinoma and one of the few oncologists who continues to offer IL-2 therapy. For a summary of the latest trial data for IL-2, refer to our summary of the ASCO 2010 Conference presentation on Interleukin-2 by David McDermott of Dana Farber Cancer Institute, see ASCO Trial Results. For an historical perspective on the seminal trial data for IL-2, click here IL-2 Seminal Trials.   
Dr. Dutcher has treated over 500 patients with High-Dose Interleukin-2, the only therapy that has provided a complete, durable response in both RCC and melanoma patients, albeit in a small minority of cases. She has also participated in several trials for targeted therapies. 
Dr. Dutcher is chair of the Renal Cancer Subcommittee of the Genitourinary Committee for the Eastern Cooperative Oncology Group (ECOG), which is an NCI funded research consortium, and she is a founding member of the Cytokine Working Group, which is dedicated to the study of new therapies for kidney cancer and melanoma, and for the development of new approaches to immunotherapy of cancer. 
For the past six years, she has been a member of the American Board of Internal Medicine, Medical Oncology Board examination committee. She is a past chair of the Young Investigator Grants Award committee of the American Society of Clinical Oncology (ASCO). She is a past member of the National Cancer Institute's committee for review of Cancer Centers and is past Chair of the Food and Drug Administration Oncologic Drug Advisory Committee.  She participated for the past seven years as a faculty member in the ASCO/AACR (American Association for Cancer Research) Workshop in training young investigators in clinical trials methodology. She is currently involved in ASCO's efforts to develop curriculum for continued education and certification.
Appointments for Patients
212-636-3334
St Luke's Roosevelt Hospital Center
1000 10th Ave  (West 58th-59th Streets)  Suite 11C02
New York, NY 10019