Emporia, KS: Brenda's Home Town
by Pat Todd on June 30, 2015
In Emporia is Emporia State University, formerly Kansas State Teachers College. We visited Beach Music Hall, the music building (see below) on campus adjacent to Brenda's elementary school, Kansas State Teachers College Laboratory School. They had music class every day! (See Brenda's post about her music education.)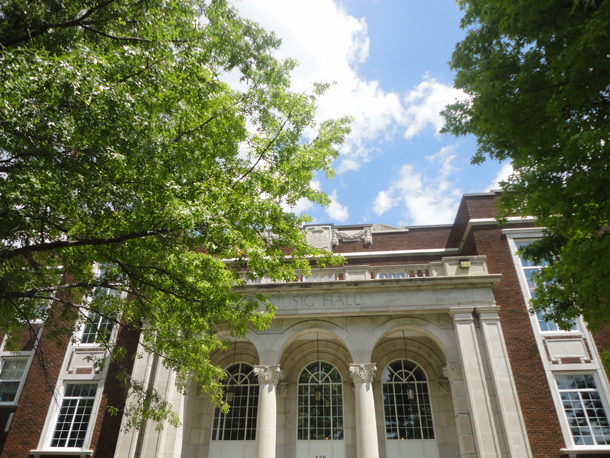 The names of the people honored within the hall include the Valeta Jeffrey Ives Room. Valeta was a ground breaking music teacher. She did everything like taking her students caroling around the campus. Brenda had her for six years, 1st through 6th grade.
Hendricks Computer Lab was named for Dr. Charles Hendricks who was a friend of Brenda's family, and his wife taught music also. They were both on the college faculty. He was a band leader and composer, very innovative. Those were the rooms.
One of the practice studios was made possible by Paul and Janice DeBauge, who had provided the funds for the room. Paul, who played the piano won all the Federated Music Teachers contests, was a year ahead of Brenda. (The judges favored him to Brenda's annoyance.)
There were bricks along the back wall as you enter (not on the floor but in the wall) with names Brenda knew: Leopold Liegl was on the faculty of the college and later became Brenda's flute teacher. Statewide, he was big in promoting student participation. The Emporia Neosho Valley Youth Symphony (ENVY) was his creation. It was made up of students from around the area who auditioned to get in — this was all grade school! In high school, if he thought you were good enough, he arranged for special performances. Three students in Brenda's senior class were selected to play piano, violin and flute concertos with the college orchestra. Brenda played flute. She also gave an entire flute recital that year, instead of a piano recital, which upset her piano teacher. But it was so exciting to play with the college orchestra. Dr. Liegl lived very close to Brenda's grandmother. He and Dr. Hendricks, who was a trumpet player, were both big draws at the college. They were both family friends, and it was overwhelming to see their names.
Lynn and Ann Underwood Kindred was another brick. Ann was two years ahead of Brenda in school. She lived across the street from Brenda's grandmother and did everything better and right. She married the high school basketball star, Lynn. They gave a brick, but Brenda doesn't know what their connection to music was. It showed Brenda how the school is connected to the community. There are hundreds of bricks in the wall. Someone evidently has come to Emporia who knows how to make things happen.
Brenda looked forward to going to school everyday. It was a five minute car ride from home and ten minutes from her dad's store, Bruckner's Store for Men, which was in the middle of town for forty years. Bill Bruckner was known to be the best merchandiser in Kansas. He went out of business before credit cards. The worst day would be the day he got a "bad check" from an out-of-towner. Half a block away was Poole's Dry Goods, owned by Brenda's grandfather. Both her Aunt Martha and Aunt Tad worked there. Martha went to New York City as the buyer. Aunt Tad was in sportswear. They both played the piano "by ear." They never read music, but always played. Aunt Tad played for the silent movies. Aunt Martha played for the US troops during WWII in Hawaii. Martha returned to Emporia when Brenda's grandmother died, and worked at Poole's. Everyone who shopped at Poole's relied on her buying ability. Martha and Tad played every Sunday after dinner and always encouraged Brenda to sit with them. Bill Bruckner was active in town with Rotary and the Chamber of Commerce, and on the Board of the National Organization of Clothiers.