AGS-003 and Sunitinib
Combination Trial: AGS-003 and Sunitinib
The results of a 22-patient Phase II trial for the combination therapy AGS-003 and sunitinib (Sutent) to treat metastatic kidney cancer (mRCC)  patients was presented in a poster session by Asim Amin from Carolinas Medical Center. A previous trial of AGS-003 as a single therapy for mRCC patients was reported on at the ASCO Genitourinary Symposium in San Francisco in March and showed moderate benefits – 8 out of 20 patients (40%) had either a partial response or stable disease.
AGS-003 is formulated by extracting dendritic cells from mRCC patients, culturing them, amplifying them by exposure to RNA extracted from the patient's tumor and incubating and processing them for re-introduction into the patient.  The theory is that the final compound, when injected back into the patient will present an antigen to the subject's T-cells that will then attack the tumor. Since there is little toxicity to the patient (mostly soreness near the injection site), AGS-003 can be combined with other therapies, such as sunitinib, without increasing the latter's toxicity. 
The treatment calls for one or two initial cycles of sunitinib (4 weeks on/2 weeks off), then injections of five doses repeated every three weeks of AGS-003 starting on the 6th week of the sunitinib cycle. After that, a booster shot of AGS-003 is given every three months and continued until disease progression. 
This was a first-line trial (no previous therapy for mRCC), open to clear cell patients with an MSKCC risk category of intermediate (16 patients) or poor (6 patients). 
AGS-003 did not increase the Grade 3 or 4 adverse events (AEs) associated with sunitinib and no one withdrew from the trial due to AEs. 
The results were as follows. Of the 16 patients who completed the first restaging visit (3 months), one had a PR and 12 had SD with the other three progressing. The following graph is based on Dr. Amin's poster presentation and shows progression-free survival (PFS) for patients on this trial as compared to the standard PFS from the Motzer study of 750 patients on the randomized trial for sunitinib. The latter trial demonstrated a PFS of 3.7 months for the poor risk patients and 10.6 months for the intermediate. In the AGS-003 trial, three patients were evaluable in the poor category and all exceeded the 3.7 months PFS with one patient approaching 20 months and counting. Of the intermediate risk category, 13 patients were evaluable and 11 of them exceeded the 10.6 months with 8 patients continuing on trial.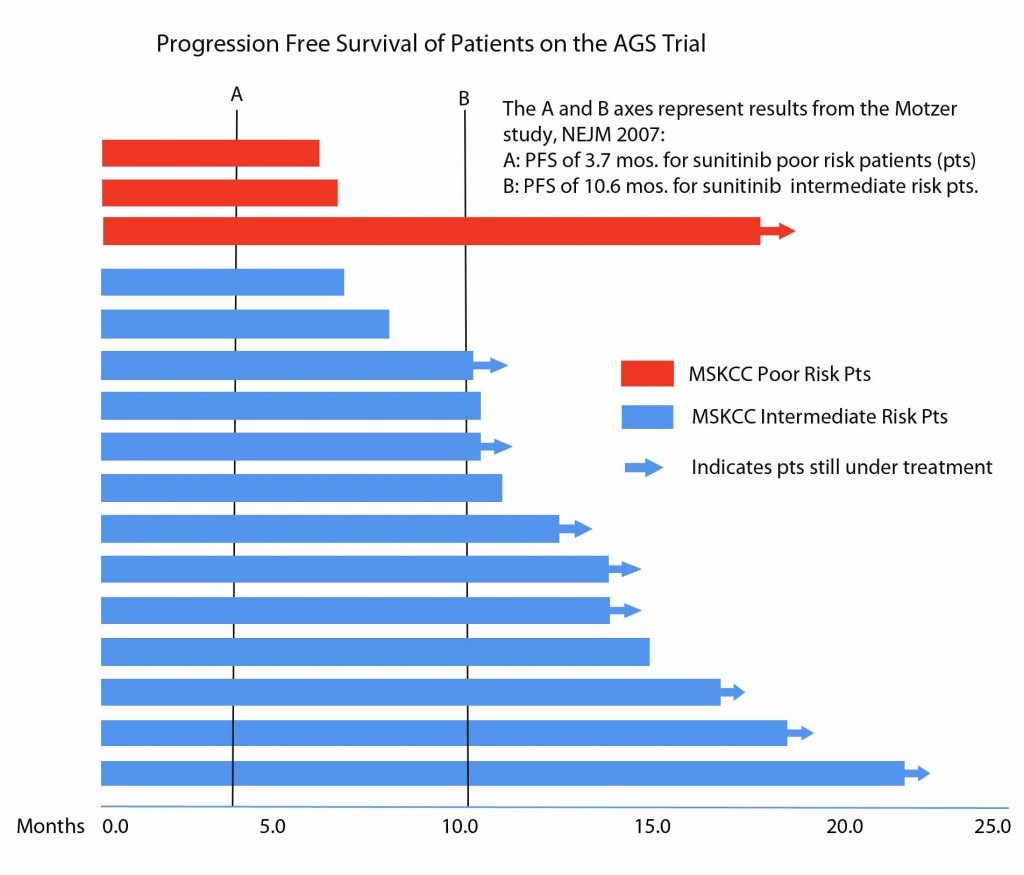 So what do we learn from this trial? Since this was a very small Phase II trial conducted at only a few centers, the conclusions about the efficacy of adding AGS-003 to sunitinib will have to await a larger trial. However, early results look promising and toxicity was not increased by including AGS-003. We know that the targeted therapies do not offer a durable response, failing at a median progression-free survival of 12 months or less. Attempts have been made to combine drugs, however combining tyrosine kinase inhibitors (the class of drugs to which sunitinib belongs) with other targeted therapies such as mTOR inhibitor (such as everolimus or temsirolimus) has caused toxicities that most often required dose reductions and less efficacy. With AGS-003, there is an opportunity to develop a protocol that doesn't add to toxicity but which may be more efficacious than sunitinib alone. However, it would require a randomized trial of sunitinib/AGS-003 versus sunitinib alone of at least 80 patients to adequately test this combination. Unfortunately, that could cost millions of dollars which the biotech company that produces AGS-003 doesn't have. Therefore, they need an investor like a major pharmaceutical company, the government, or a venture capitalist. Without that funding we may never hear of AGS-003 again. Perhaps the final results, will attract an investor.
June 2010
Update
At the Ninth International Kidney Cancer Symposium in Chicago in October, Dr. Robert Figlin presented, at a poster session, an update to the AGS-003 trial that was presented by Dr. Asim Amin in June at ASCO. The updated overall response data are as follows.

For evaluable patients who received at least 5 doses of AGS-003 and were restaged, the progression-free survival figures are given in the following table.

Note that 7 patients of the 16 are still receiving therapy. 
Update:  September 2010