Reports from ASCO 2011
The American Society of Clinical Oncology (ASCO) conference was held in Orlando this year from June 3-7. This is the preeminent clinical cancer conference in the world with over 30,000 attendees, at least half of whom come from countries outside the United States.  
Unfortunately, although there were 10 oral presentations and 159 poster presentations about kidney cancer, there were no announcements of any major breakthroughs of new drugs for kidney cancer this year. Pfizer made an application to both the FDA and the EMA (European Medicines Agency) in June for approval of axitinib, their new tyrosine kinase inhibitor (TKI), as a second-line therapy in kidney cancer. We have summaries of two ASCO 2011 presentations on axitinib, one oral and one poster. We also expect that Aveo will apply for official approval for its TKI, called tivozanib. We have summaries of two poster presentations on tivozanib at ASCO 2011.  
We also have written in depth summaries of two overview oral presentations, one by Elisabeth Heath, "An Update on Targeted Therapies", the other, a complementary presentation by Sandy Srinivas, "Therapeutic Landscape in Kidney Cancer", which covers biomarkers, adjuvant therapies, and toxicity profiles for approved therapies for kidney cancer. Reviews of other presentations will be added as they are completed.   
The targeted therapies for combating metastatic kidney cancer (mRCC) are designed to inhibit angiogenesis, that is, the formation of blood vessels that specifically develop to supply nutrients to the growing cancer. Angiogenesis is only one of the "Hallmarks in Cancer"[1] as presented in two seminal papers by Hanahan and Weinberg in their discussion of the biologic mechanisms that are critical to the growth and metastatic spread of cancer. These hallmarks are shown in the diagram below. In order for a therapy to defeat cancer, it must address more than just a single hallmark like angiogenesis. We are awaiting the development of drugs or combinations that will provide significantly longer survival for those people who are stricken by metastatic disease. Since the first official approval of a targeted therapy drug for kidney cancer, sorafenib (Nexavar) in 2004, there has been an increase of only 1 year in median survival for mRCC patients.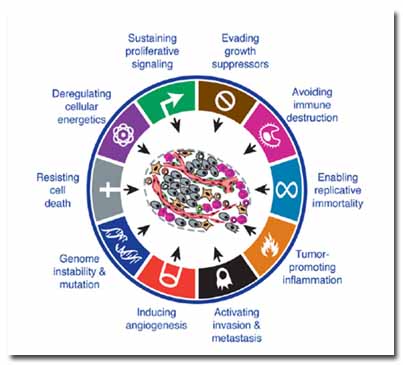 More research, both basic and clinical, is needed in order to improve the outlook for mRCC patients. Some cancer types are way ahead of us. For example, in the ASCO category "Cancer Prevention/Epidemiology", there were 73 presentations, 24 of which (33%) focused on breast cancer. This is a product of more money going toward breast cancer research and enough knowledge gained that it required 24 papers to present it. There was not a single presentation in this category for kidney cancer! For an overview of the problem, see the poster that ACKC presented at this year's American Association for Cancer Research Conference: "Kidney Cancer Trends…" at  Kidney Cancer Trends Poster.
The following is an index to the ASCO 2011 reviews. 
Therapeutic Landscape in Kidney Cancer
Axitinib Survival Analysis Phase II Trial
Axitinib versus Sorafenib Phase III Trial
Tivozanib versus Placebo Phase II Trial
Tivozanib and Temsirolimus Phase I Trial
Circulating Biomarkers in Pazopanib Phase III Trial
---
[1]
Diagram is included herein by permission of Elsevier, Inc – .
http://tinyurl.com/3k2kuyy
.