Tivozanib and Temsirolimus Phase I Trial
Fairooz Kabbinavar of UCLA  presented a poster of a Phase 1b open label, dose escalated study to determine the safety, tolerability and maximum tolerated dose (MTD) of tivozanib when combined with temsirolimus (Torisel). The secondary study objective was to determine the pharmacokinetic profile and anti-neoplastic activity of this drug combination. Tivozanib (AV-951), an oral, small molecule TKI, is designed to inhibit all three VEGFRs.     
The trial found:
Tivozanib and temsirolimus can be safely combined at their maximum doses.  This is notable, as tivozanib is the first VEGFR TKI to be successfully combined with an mTOR inhibitor at full dose and full schedule of both drugs
The combination was well tolerated
Incidence of adverse events associated with the combination was similar to those of tivozanib and temsirolimus administered independently, suggesting a lack of additive toxicity
Encouraging evidence of clinical activity in mRCC, with median treatment duration of 21.9 weeks, with two patients remaining on treatment 80 and 95 weeks 
The combination's clinical activity and manageable side effect profile warrants further study in RCC.  An Aveo spokesperson indicated that the company is looking into the possibility of follow up trials, perhaps for 2012. 
The efficacy of the two-drug combination was:

The MTD for the combination was defined as the dose at which no more than one patient experienced a dose-limiting toxicity (DLT), which included any of the following
Grade 4 non-hematologic toxicity
Grade 3 non-hematologic toxicity lasting more than three days (except hair loss, rash, transominase elevation and self-limiting, medically controllable events)
Grade 4 neutropenia (abnormally small number of a certain type of white blood cell) lasting more than five days
Grade 3 or 4 neutropenia associated with fever and requiring antibiotics
Grade 4 thrombocytopenia (abnormal decrease in platelets)
Any toxicity requiring treatment interruption for longer than two weeks. 
A previous Phase I trial determined tivozanib MTD=1.5 mg/day, and showed responses in RCC and other tumor patients.  In this study, tivozanib was dosed at that level once daily for three weeks, followed by one-week break (cycle = four weeks); temsirolimus was given IV 25 mg weekly starting day 8 of cycle 1. 
The study enrolled 27 mRCC patients with clear-cell component. An additional 12 patients were added at MTD for incremental safety and efficacy analyses. Study patients all had measurable disease by RECIST criteria; had used no more than one prior VEGF therapy; and had no prior mTOR therapy. Enrolled patients all had a Karnofsky performance status of at least 70 percent, with life expectancy of at minimum three months. No central nervous system primary malignancy or active metastases were allowed in the study population. 
The most common treatment-related adverse events were as follows: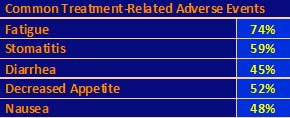 The acceptable safety profile shown in this study is consistent with that of other VEGFR inhibitors.  More than 10 percent of study participants experienced Grade 3/4 hypertension, which, for all grades, affected close to 50% of the patients . It was managed by standard anti-hypertensives.  For all grades,  12 percent of the trial population experienced diarrhea and 10 percent experienced asthenia (weakness).  Dose reductions due to AEs were required by eight percent of patients; treatment interruptions due to AEs were required by four percent, and nine percent discontinued the trial due to AEs. Based on these results, Aveo is conducting TIVO-1, a global Phase 3 trial of tivozanib in nephrectomized patients with clear cell RCC.