Tivozanib vs. Placebo Phase II Trial
The goal of this trial, poster presented by Dmitry Nosov from Blokhin Oncology Research Center in Moscow,  was to provide the final analysis of the activity of tivozanib (AV-951) in advanced RCC, looking at objective response rate (ORR) after a 16-week open-label period.  Also queried was the progression-free survival (PFS) of patients randomized to an additional 12 weeks of tivozanib versus placebo, following the initial four cycles, and finally, safety and tolerability of tivozanib. 
272 patients with locally advanced or metastatic RCC received tivozanib 1.5 mg/day for three weeks, followed by a week-long break, which constituted a cycle.  Patients who attained a minimum of 25 percent disease regression during the first 16 weeks continued on open-label treatment with tivozanib.  Patients who had less than 25 percent change from baseline, either shrinkage or growth, were randomized to double-blind phase of tivozanib or placebo.  Patients with greater than 25% growth were discontinued from the study (along with others with unacceptable adverse events, patient request, etc.) Median duration of study treatment was 8.5 months.   
The trial design, displayed graphically, was: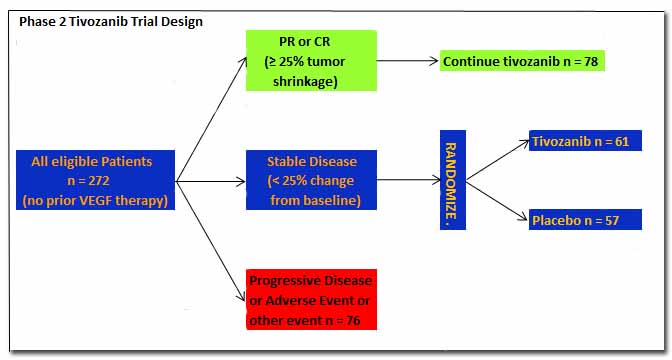 The study concluded the tivozanib shows promising efficacy and an acceptable safety and tolerability in advanced or metastatic RCC.  At the end of the initial 16-week phase, ORR  (overall response rate) was 18 percent. 
The overall study results were:

In the second phase of the study, significantly more patients randomized to tivozanib experienced progression-free survival after 12 weeks of double-blind treatment than did those assigned to placebo. 
The patients who had disease progression on placebo were able to cross back to open-label tivozanib.  Of these 24 patients, 22 experienced response or stable disease after restarting tivozanib. 
A retrospective exploratory analysis demonstrated that tivozanib shows greatest efficacy in clear cell RCC patients who had undergone nephrectomy, with a median PFS of 14.3 months among treatment-naïve patients and 15.8 months in patients who had at least one prior systemic therapy. ORR for clear cell with nephrectomy was 30 percent.  Of note, the difference in PFS between pre-treated and treatment naïve patients was unusual for sequential therapies in that prior treated patients had a higher PFS than treatment naïve patients, however the results were not statistically significant.

The acceptable safety profile shown in this study is consistent with that of other VEGFR inhibitors.  More than 10 percent of study participants experienced Grade 3/4 hypertension, which, for all grades, affected close to 50% of the patients . It was managed by standard anti-hypertensives.  For all grades,  12 percent of the trial population experienced diarrhea and 10 percent experienced asthenia (weakness).  Dose reductions due to AEs were required by eight percent of patients; treatment interruptions due to AEs were required by four percent, and nine percent discontinued the trial due to AEs. 
Based on these results, Aveo is conducting TIVO-1, a global Phase 3 trial of tivozanib in nephrectomized patients with clear cell RCC.