Pazopanib versus Placebo
Phase III Trial of Pazopanib versus Placebo
Cora Sternberg, from the San Camillo and Fortanini Hospitals, Rome, Italy, made an oral presentation of the results of a randomized, double-blind, Phase III study of pazopanib in treatment-naïve and cytokine (either Interferon-alpha or Interleukin-2) refractory (pre-treated) patients with advanced renal cell carcinoma. The trial was conducted from April 2006 to April 2007 at 80 sites in 22 countries outside of North America. Pazopanib is an oral angiogenic inhibitor that especially targets VEGEFR-1, VEGFR-2, and VEGFR-3.
The trial was restricted to patients with clear cell histology. Of the 435 patients, 233 were treatment-naïve and 202 experienced one prior cytokine treatment. Patients were then randomized 2:1 to either pazopanib 800 mg/day (290 patients) or to a placebo (145 patients), with the option of receiving pazopanib upon progression.
The primary endpoint of the study was progression-free survival with secondary endpoints being overall survival, ORR (overall response rate), safety, and quality of life.
Patient Characteristics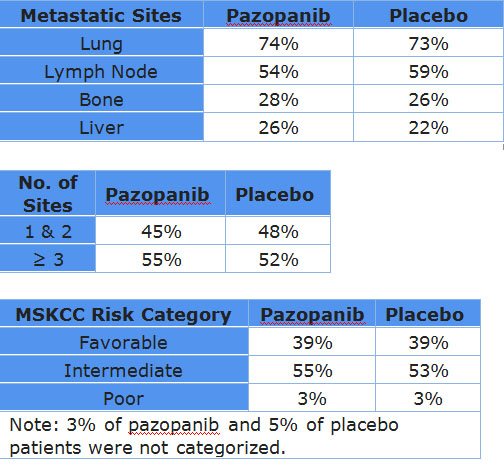 Results
The investigators stratified the results into three parts:
a)      the combined population of all those participating in the trial
b)      only those patients who were treatment-naïve, i.e. they had had no prior therapy for their disease
c)       those patients who had previously failed cytokine therapy
The progression-free survival results are provided in the following three tables.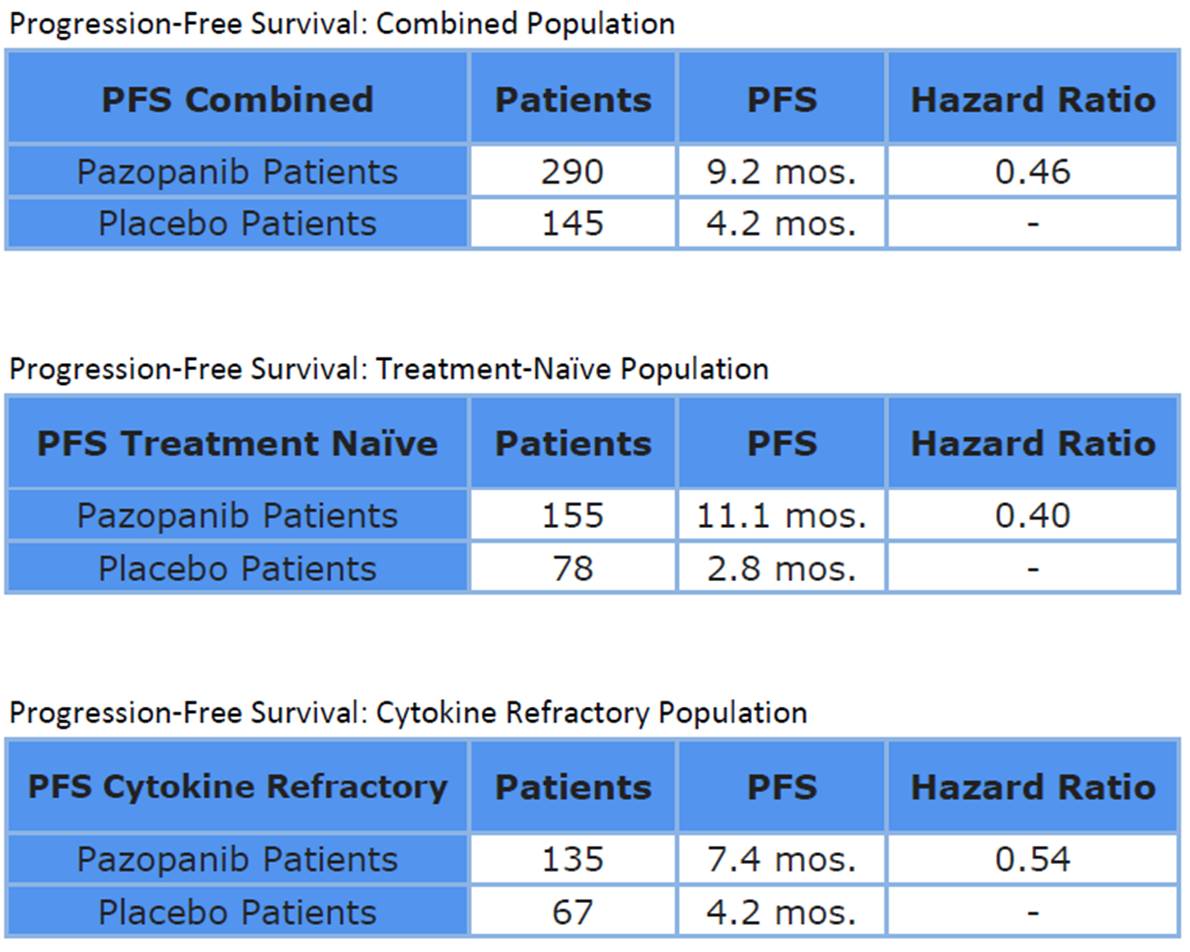 The analysis of shrinkage of the tumor is as follows.

The investigators performed an interim overall survival (OS) analysis with the results provided in the next table. Based on the hazard ratio, patients receiving pazopanib have a 27% lower risk in dying than those on a placebo. However, this lower risk did not meet the statistical significance requirements (the O'Brien-Fleming boundary for superiority / futility) set by the study.

Adverse Events
The following tables represent Dr. Sternberg's side-effect data, which give the reader an appreciation of the type and severity of adverse events caused by pazopanib versus those experienced by patients taking a placebo.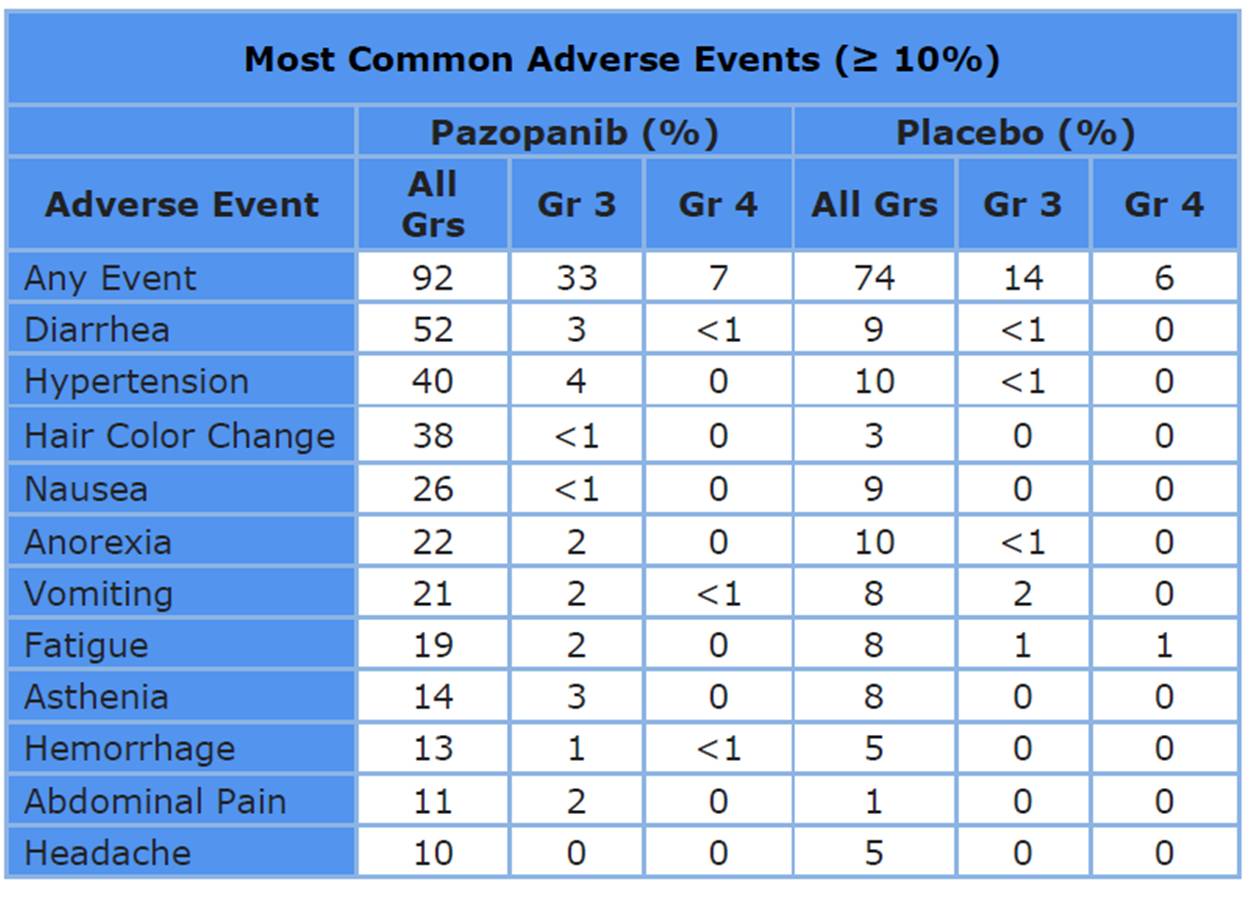 In addition, Dr. Sternberg presented the data on selected adverse events for pazopanib that other tyrosine kinase inhibitors are known to cause.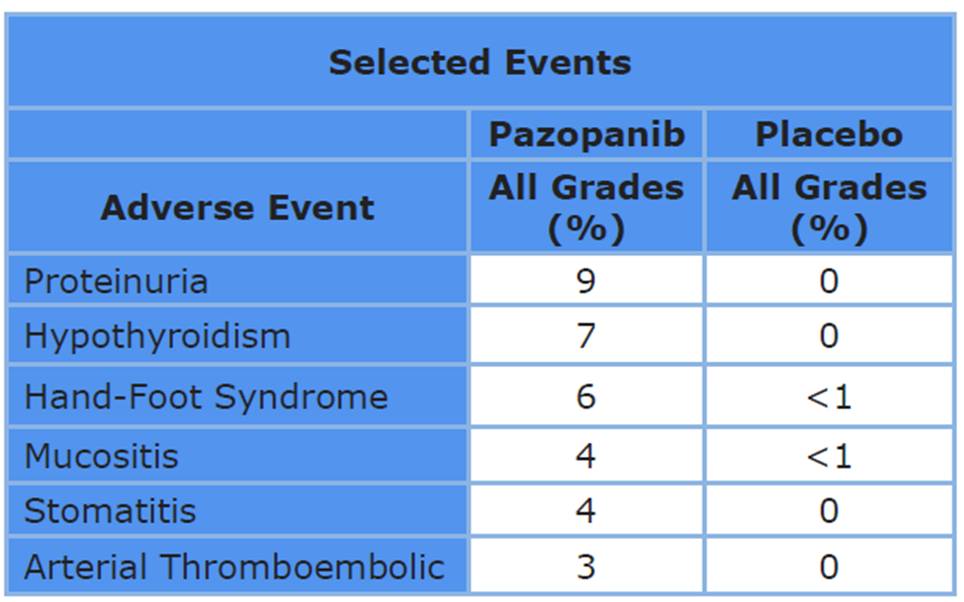 With respect to laboratory abnormalities, 53% of patients had high concentrations of liver enzymes with, at most, 12% having grade 3/4 adverse effects. Other lab tests showed increase values as well, e.g. hyperglycemia increased in 41% of patients, however, grade 3/4 effects did not exceed 5% in any of these other indicators.
The investigators also compared pazopanib with placebo using three quality of life standards. Dr. Sternberg provided no specific data results but stated that "there was no difference between treatment with pazopanib and placebo at any of the on-therapy assessment time points".
Conclusions
To judge the effectiveness of pazopanib, we have to compare it to Sutent (sunitinib), the standard tyrosine kinase inhibitor generally used to treat metastatic kidney cancer. The following chart compares the data for the two drugs.

Note: 8.7 mos. And 8.3 mos. PFS for Sutent represents two trials.
The patient mix was similar based on the MSKCC categories. As can be seen, the progression-free survival for treatment-naïve patients was comparable while Sutent's PFS figures for cytokine refractory patients was somewhat better than pazopanib's. The overall survival (OS) figures are based, for Sutent, on the treatment-naïve trial. The pazopanib 21.1 mos. is an interim figure as the data are not yet mature. Both the 26.4 mos. for Sutent and 21.1 mos. for pazopanib, included patients who continued on other therapies after having failed the primary TKI. Still, pazopanib remains in the ballpark as an effective TKI when compared to Sutent (NB: the Aveo investigational drug tivozanib also had a PFS of 11.8 mos. as reported at ASCO this year – see our report http://ackc.org/AV-951_tivozanib).
Nicholas Vogelzang of the Nevada Cancer Institute was the discussant on Dr. Sternberg's presentation.
He noted that pazopanib had less hand-foot syndrome than sunitinib, and although it did report liver toxicity, he thought that perhaps it would be better tolerated than Sutent.
GlaxoSmithKline, the producer of pazopanib, is obviously looking to place pazopanib as an alternative to Sutent since it is now running a large scale (876-patient) Phase III trial going head-to-head with Pfizer's Sutent. Given that none of the targeted therapies provide a durable response to metastatic kidney cancer, if pazopanib only comes in a close second to Sutent, it will give it a good argument to jump ahead of all the other therapies as an alternative option, at least until tivozanib and axitinib are approved.
Placebo-Controlled Trials
Finally, we cannot close this report without mentioning the fact that GlaxoSmithKline (GSK) designed and ran this trial testing pazopanib against a control group that received a placebo. Many people believe that it is unethical to give a placebo to patients suffering from metastatic disease and Jay Bitkower, the President of ACKC brought up that issue during the Q & A following Dr. Sternberg's presentation. Although Dr. Sternberg vigorously defended the trial's design, Dr. Vogelzang echoed ACKC's concerns, pointing out that many of the trial's participants were from 'resource poor countries' (many were from Asia) and decried the fact that there was only a 48% crossover to pazopanib for patients on the placebo arm whose disease progressed. This figure is low as compared to the crossover on other trials – he compared it to crossovers of 55% and 63% on two other trials where Interferon-alpha was the control arm. In this trial, we have placebo patients off therapy for three to four months, as well as insufficient control of the trial by GSK to ensure that the placebo patients were crossed over to therapy once they progressed. It is unlikely that GSK could have gotten away with such a trial design in North America or Western Europe