Tivozanib versus sorafenib (Nexavar)
Robert Motzer, from Memorial Sloan-Kettering Cancer Center, presented a Phase III, open-label trial, testing tivozanib against sorafenib in mostly treatment-naïve, clear cell histology patients. Open-label means that the patients and clinical investigators knew which therapy was being used. The objectives of this trial were to test the efficacy and safety of tivozanib as compared to an already approved therapy for kidney cancer. This is the seminal trial for tivozanib, the results from which (if tivozanib shows efficacy) will be used for application for US Food and Drug Administration (FDA) and European Medicines Agency (EMA) approval for use  in metastatic kidney cancer patients. The trial was sponsored by Aveo Oncology, the developer of the drug and its marketer in North America, and Astellas Pharma, the marketer for tivozanib in the European Union.
Tivozanib is a highly potent therapy as only 1.5 mg of the drug was administered daily to the 260 trial patients on the tivozanib arm (the 257 patients on sorafenib received the standard 400 mg, twice a day dose of that drug). One prior therapy was allowed only if it wasn't a targeted therapy that inhibits VEGF or mTOR. All patients had a prior nephrectomy.
About 70% of patients had metastases in two or more organ sites with lung mets predominant (in 80% of patients). 30% of patients had had prior therapy, mostly Interferon-alpha. Over 90% of patients were evaluated as either good or intermediate risk per the MSKCC risk categories.
The efficacy results were as follows:

The hazard ratio of 0.797 means that for the tivozanib patients there was a 20% less  probability of progressing as compared to the sorafenib patients. The P value = 0.042 indicates that the results were statistically significant. The investigators performed a subset analysis of the data, and for most of the categories tivozanib outperformed sorafenib. The one exception was in risk status, where tivozanib was superior to sorafenib for good and intermediate risk categories but sorafenib had more benefit in the poor risk group (note that there were only 27 patients in this category so the results may not be statistically significant). For patients who had not had prior therapy, the pfs for tivozanib was 12.7 months versus 9.1 months for sorafenib.
Tumor response rates were as follows: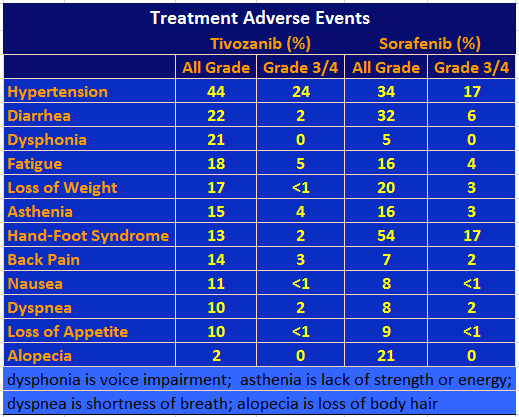 Given the superior efficacy of tivozanib over sorafenib, what about the side effects? One set of data presented by Dr. Motzer was dose adjustments due to Adverse Events (AEs).

These data were statistically significant. The Discontinuations were those patients who stopped treatment due to AEs. Tivozanib engendered fewer laboratory abnormalities as well, as evidenced by the following table for selected indicators: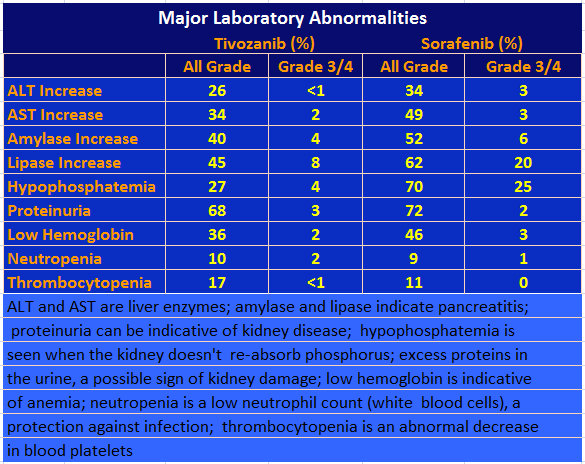 The Adverse Event profile of the two drugs is: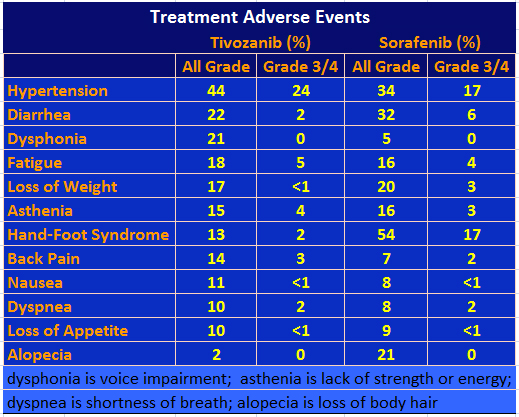 With respect to major laboratory abnormalities, no more than 10% of the tivozanib patient population's side effects (with the exception of hypertension) reached the grade 3/4 level. In contrast, 17% of patients on sorafenib suffered from grade 3/4 hand-foot syndrome. Hypertension was the outlier, with respect to grade 3/4 events. It was controlled, for the most part, by medication, with only 2% of the cases requiring dose reduction and 1% dose discontinuation. However, dysphonia was elevated in tivozanib with 21% of patients having symptoms versus only 5% for sorafenib.
Hypertension has been linked with increased efficacy in other targeted therapies such as sunitinib and axitinib.  The investigators did a subset analysis of hypertension and tivozanib efficacy, with the following results.

As has been observed, patients with a diastolic pressure exceeding 90, had progression-free survival of 18.3 months versus 9.1 months for those under 90 with the hazard ratio indicating 45% more efficacy in patients with a higher blood pressure. As Dr. Motzer noted, this effect is probably due to tivozanib's activity in inhibiting VEGF expression.
Dr. Motzer summarized the findings from this trial, indicating that, in his opinion, based on tivozanib's efficacy and tolerability of side effects, it warrants a place among other targeted agents as a first-line therapy in metastatic kidney cancer patients.
Discussion: Tim Eisen, a renal oncologist at Cambridge University Hospital in England (and also an investigator on this trial), reviewed Dr. Motzer's presentation.  Dr. Eisen first indicated that overall survival was not a measurement of efficacy, and probably could not be, since patients who progressed on sorafenib were given the option of crossing over to tivozanib, which would compromise any overall survival figure for this arm of the study.
Also noted was the fact that sorafenib performed better in this trial than in earlier trials of this agent. For the first six months of this trial, there was essentially no difference between progression-free survival figures between the two drugs. At six months, the pfs curve began to diverge in tivozanib's favor. Possibly, investigators have been able to better control the side effects of sorafenib, leading to better performance.
Dr. Eisen stated that with tivozanib, as with axitinib, which was recently approved, oncologists are getting higher response rates but mostly incremental. In order to achieve a more robust effect, investigators may have to increase dosage upon progression or stop giving the drug once the maximum tolerated dosage is reached in order to "re-sensitize the disease" to later therapy.
In summary, he said that tivozanib is a well-tolerated and effective drug, noting that this is the first targeted agent to attain a pfs of greater than 12 months in treatment-naïve patients. Its performance established tivozanib as an option in first-line treatment of rcc patients. However, he would like to see tivozanib performance with respect to sunitinib and pazopanib and also would like to see Quality of Life (QoL) patient preferences.
Comments by Reviewer: We agree with Dr. Eisen that tivozanib's performance with respect to efficacy and tolerability warrant its inclusion as an option for use by metastatic rcc patients in first-line treatment. That being said, tivozanib, like axitinib, was given an easy therapy to compete against, namely sorafenib, whose efficacy has always ranked below that of the other approved targeted agents for rcc. Head-to-head competition between tivozanib and sunitinib and axitinib would be welcome. Note that GlaxoSmithKline is running a head-to-head trial for its drug pazopanib against Pfizer's sunitinib in the COMPARZ trial, the results for which are eagerly awaited.
Glaxo also sponsored a patient preference and QoL trial, PISCES, for pazonpanib versus sunitinib. The trial results for PISCES was reported on at this conference. Not to be outdone, Aveo/Astellas announced on June 4th, that they will run a similar patient preference study, called TAURUS, of tivozanib versus sunitinib, testing the drugs in sequence. In the 3rd quarter of this year,  Aveo/Astellas will be making application to the FDA and EMA for approval of tivozanib in rcc.
In the interests of full disclosure, this reviewer participated in a Tivozanib RCC Patient Advocacy Advisory Board in Chicago following the ASCO conference, and made similar comments at that time.