ECOG Status
ECOG Performance Status
---
These scales and criteria are used by doctors and researchers to assess how a patient's disease is progressing, assess how the disease affects the daily living abilities of the patient, and determine appropriate treatment and prognosis.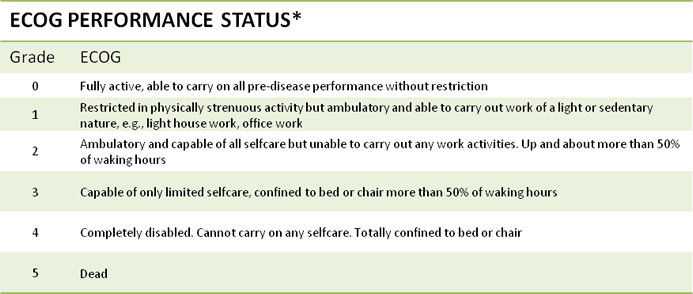 *As published in Am. J. Clin. Oncol.:
Oken, M.M., Creech, R.H., Tormey, D.C., Horton, J., Davis, T.E., McFadden, E.T., Carbone, P.P.: Toxicity And Response Criteria Of The Eastern Cooperative Oncology Group. Am J Clin Oncol 5:649-655, 1982.
Printed by permission from the Eastern Cooperative Oncology Group.