We're Going to Kansas City…
by Pat Todd on June 28, 2015
I have to describe yesterday, Saturday, a travel day.
Brenda and I had done our thank you gift shopping for everyone at Chroma in Guilford, CT. Barbara makes the most original and beautiful works out of glass of the most wonderful colors. But my gift for Lynn and Josie was also left in my trunk on Friday. So Saturday morning, instead of driving many miles to their home, I found my way to the golf course where Lynn and his son were teeing off at 7:15 am. I got there at 7:13, but they had already teed off. The pro saw me roaming around looking for them, and offered to take me out on the course in his cart. We came upon them just as they were getting in their cart to chase down their balls, and I jumped out and gave Lynn the carry-on bag with the heavy glass vase. Of course he couldn't carry it around the course all morning, so the pro offered to hold on to it for him. By the way, that storm hit and it had rained all night. The course was like velvet.
Then I drove over to pick up Brenda and get on the road. Sandy had learned from her friend that if we were planning on making it halfway to Kansas City at Peducah, KY, we'd better make reservations somewhere in advance because Peducah was FULL. High school baseball tournament and archery. I called Drury, the place Roger had recommended we stay, but it was booked. We found a room at the Holiday Inn Express, where I have been writing this post.
We had a delicious breakfast at Sandy and Ken's dining room table, and after loading the car with EVERYTHING, we were off.
The sky was ominous all day. We hit one blinding rain storm and four major traffic jams. Two of them were accidents causing the beautiful Route 40 to be closed, and two of them were for fog in the mountainous detour. The wild flowers on the road dividers were magnificent throughout North Carolina (flowers I couldn't identify) and a lot of Queen Ann's Lace and Chicory. There was a vine that must have been planted in road cuts that then took over entire sections of forest. The trees were totally covered. Up close it looked like a grape vine. It's not Virginia Creeper.
The best part of the 700 mile drive was the names of the towns and some of the road signs through Tennessee and Kentucky, i.e., a town called Frozen Head. A road called Andy Griffith Drive to Mount Airy. I have to find that list. Must share.
No matter which road we were on, it was a four lane divided highway, heavily forested, some cows, and many signs advertising a vineyard. But I did not see a grapevine on a hillside.
We stopped for dinner in Marion, TN, but Marion turned out to be a very small town. The Saturday feature was a car show of very old, very highly polished Fords. I took some photos, but with the dark clouds, I'm not sure you can see how fine these cars are. Across the street on the sidewalk were all the wives of the owners of the cars — talking, knitting, crocheting.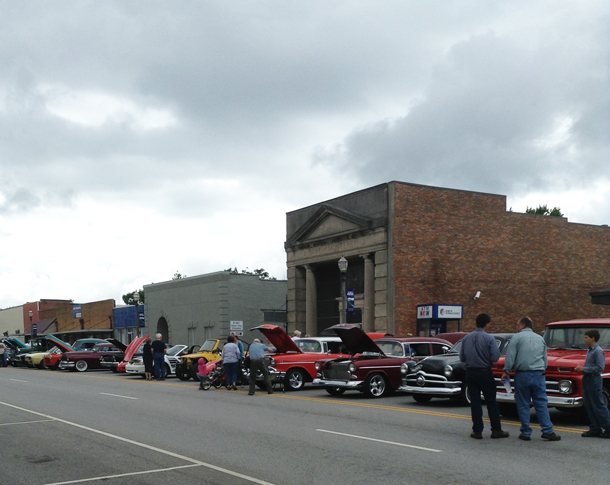 There was no place to eat except Hardee's so we continued down the highway to Cookeville, TN. True to its name, it was loaded with choices. We ended up at the Longhorn Steak House.
Twelve hours on the road, and just after dark, we pulled into the Holiday Inn Express outside of Paducah, KY, which was FULL of young families with at least three children and the grandparents.
Have I mentioned what it is like to drive outside of the northeast? Everyone is courteous. No shooting stars, no one passing on the right. And everyone exceeding the 70 mph speed limit, even the many trucks.